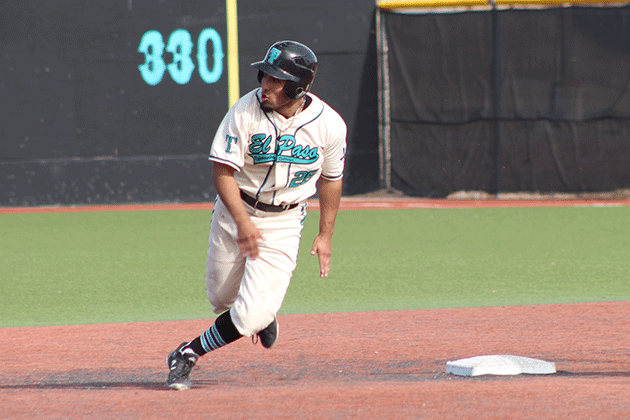 The bad news is that after last weekend, the EPCC baseball team fell to 5-27 overall and just 1-11 in the Western Junior College Athletic Conference.

The good news is the Tejanos snapped a 14-game losing streak by knocking off New Mexico Jr. College 15-5 in the final game of their series on March 24.
 
ADRIAN ORDONEZ / TEJANO TRIBUNE
EPCC Tejano, Nicholas Carrillo, running from base to base.
 

It was also the first time an opponent hadn't scored at least 10 runs on the Tejanos pitching staff in 10 games.
In their lone victory of the weekend, EPCC's bats came alive with four home runs and 17 hits on their way to 15 runs.

 The 15 runs scored were a season-high for the Tejanos; their previous high was 11, which they had accomplished twice.

Jose Quintana, Marco Vazquez, Joseph Zubia and Joel Barraza supplied the round-trippers for EPCC. Anthony Alonzo also added three hits and four runs batted in.

Adrian Gomez, who is hitting .318, continues to have a stellar season for the Tejanos, leading the team in runs scored (19), Hits (35), doubles (12), and runs batted in (22).

Joseph Zubia leads the team with a .435 batting average. He's scored 15 runs and collected 30 hits while knocking in 19 runs.

The Tejanos return home this weekend for a four-game series against Clarendon College (17-10). 

The two will meet in a doubleheader on Friday, March 30 with the first game scheduled for 2 p.m. 

They'll repeat things on Saturday with another doubleheader and a 2 p.m. start.

The EPCC softball team fell to 7-28 on the season and 1-7 in conference play, after losing four straight at Howard College last weekend.

Howard, which is undefeated in WJCAC action (8-0), dominated the Tejanas, outscoring them 45-6 in the four-game sweep.

After going through a 5-7 stretch to open February, the Tejanas have struggled to pick up two wins in their last 18 games.

The Tejanas return home this weekend to take on Midland College. 

The first doubleheader of the series will take place on Friday, March 30 at 1 p.m., while Saturday's doubleheader is also schedule to start at 1 p.m.
Please reload