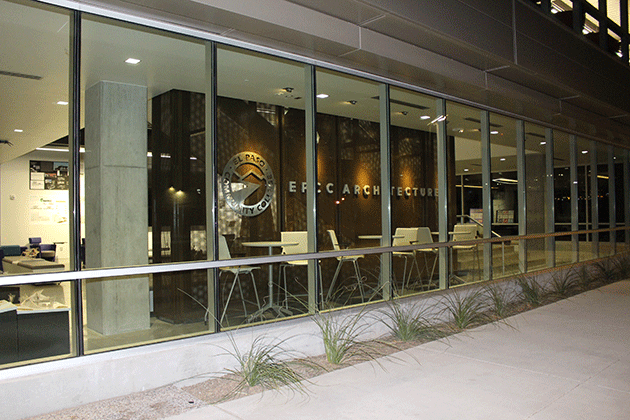 Last semester EPCC opened their newest facility, the architecture building. This spring is the second semester the "Z building" has been open. 
JAVIER DE LA HOZ/ TEJANO TRIBUNE
The architecture Z building at Valle Verde allows students to learn
and interact in its innovative facilities as they work towards their degree. 

Students cannot get over it, the outstanding all-window design and state of the art professors make this building and this department, one of EPCC's most innovative majors. 

Alejandro Mireles, EPCC Architecture Coordinator, mentions that he, other faculty members and students, voiced their opinions to David Alvidrez, from Alvidrez Architecture, as to what they would like and need for the building. 

"Before we were in a portable and one classroom, so everything that you see was in those two spaces. It was very hard to teach architecture but we still had success," Mireles said. 

"Now with the facility, not only are they taking pride of the building but also, pride of their designs." 

Mireles mentions that the students have outdone themselves and are always willing to improve with each project and improve their craft. 

All the displays and pieces in the lobby are student made.

The students work hard and put in a lot of time in order for them to be prideful about displaying them around the building.

The Z building is filled with new features and teaching methods that seem unorthodox but is standard to other architecture programs. 

For example, building Z has no inner walls, it is one, open and connected floor plan.This feature improves students' creative development and gives the necessary space for all their projects.

Foundation Studios, a program that most architecture schools follow, typically consists of 8 studios. 

EPCC only hosts three at moment with the fourth one coming soon. Foundation Studio classes hold up to 15 students per session.

Studio 3 is mainly about construction, in which you make a lot of models, so having a big space is essential.
 
Before students had to keep stuff in their homes or even their cars. Here at EPCC, the foundation studio allows classes to use the entire facility. 

One of the unconventional methods in the program is that some projects have midnight deadlines called 'Pin-ups' and students have to pin up their work by that time for professors to grade.

There is a myth that non-architecture students aren't allowed to go inside, this is not true; both students and faculty are encouraged to walk into the lobby and even upstairs to a certain point. 

Everyone that walks in, however, needs to understand that there are still classes going on and any noise must be minimal.

Mireles mentions that visitors can relax and study in the lobby if they are quiet. 

Like other architecture programs nationwide, the Z building is open 24 hours, seven days a week. 

However, the building is closed to the public at 8 p.m. and only architecture majors (or professors) are allowed in afterwards. 

Students seem to enjoy this feature. "It's very great to have this space that is open 24 hours because sometimes we don't have the space at home," Pricilla Morales, Architecture major, said. 

This 24-hour rule isn't new, it also applied when the department was a portable and one classroom. 

Mireles shares that all of this was possible through a grant from the Department of Education since hispanic architects are scarce. 

The nearest architecture school to El Paso is Texas Tech in Lubbock, at least 5-hours away.Texas Tech brought their School of Architecture to El Paso with a campus located downtown. 

So now, EPCC students are able to complete the first two years of their bachelor's program and then transfer to Texas Tech without having to move away from the Sun City. 

Since the process to become an architect is so long, EPCC encourages students to graduate as fast as possible to they can start their professional careers right away.    
Please reload