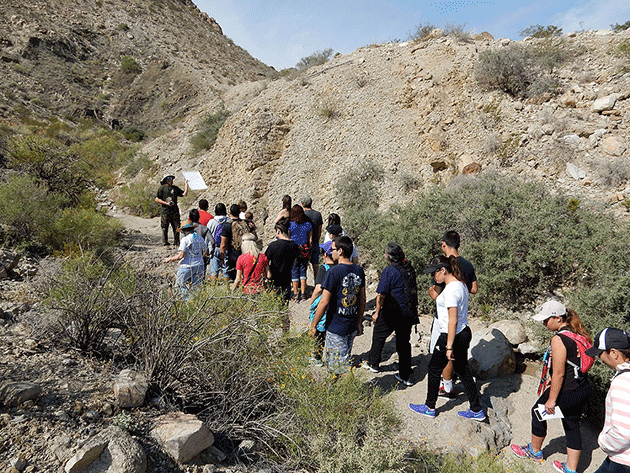 Looking for a cool way to earn your service hours or just a fun way to volunteer your time? The Tejano Passport Program might be the way. 

"The Tejano Passport Program helps students, faculty and staff explore our community on their own and earn points towards a graduation medallion,"  Dr. Gertrud Konings, Tejano Passport coordinator, said.
Nicole CUELLAR / TEJANO TRIBUNE
Hiking is one of the many activites the Tejano Passport Program invites students to
participate in, all while working towards a medallion to be worn at graduation.

 
The program lets you go all over El Paso visiting museums, the zoo, parks, etc. 

While students go around and visit various places they also collect QR codes. 

Every time a student attends an event or place they scan the QR provided and they can earn points and even different levels of medallions.

"We keep an events calendar at www.epcc.edu/qep where we list all institutions that collaborate with us and all events for which we have a special QR code assigned," Konings said.

"We also list events at EPCC or UTEP, which can last for different times; but we do not keep track of the time a student will actually be there. 

For our purpose this is not important, since it is a program to help students explore the community," Konings said.

According to Dr. Ondrea Quiros, Quality Enhancement Plan Director, "Students go to events from our 'Community Calendar,' scan the code and log in with their EPCC user name and password. 

When they log in, they automatically earn points.
They can earn a silver medallion with 75 points and a gold medallion with 100 points. Faculty and staff can participate too."

Students can download a free app called "QR reader" or "QR scanner" from the Apple or Google Play Store.
Students can even use SnapChat as a QR reader. First-timers also get a flyer with step-by-step instructions and a first time log-in procedure.

"This app works like a camera to take a photo of the code but it opens the link of the code. The link is a picture of a passport," said Konings said.

The program is open to anyone with an active EPCC account and meetings are usually held in the Valle Verde conference room (B241) every Wednesday from 1 to 2 p.m. or, at the Transmountain conference room (1005) from 10 to 11 a.m. 

"These are not all meetings. Museum exhibits can be visited for any length of time.
When a museum offers an event, it usually is for one hour, but this is listed on their website and our calendar offers a link to their site. Films and plays, of course, take longer; also hikes into the mountains or other parks," Konings said.

For more information about the program and how to become a member, contact Konings at gkonings@epcc.edu or 915-831-5182. Quiros can be contacted at 915-831-6615.    
Please reload